Edwin's Dedications
FORSCOM Room Dedication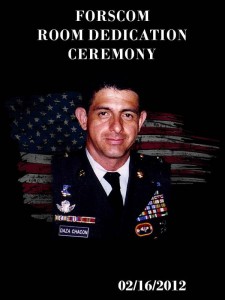 The United States Army Forces Command (FORSCOM) dedicated a conference room to Edwin at their new headquarters on Fort Bragg in North Carolina. FORSCOM 'is the Army's largest command and the generating conventional land force provider for combatant commanders – at home and abroad'.
Three soldiers were chosen for this esteemed honor. The following was written to Edwin's family to explain this honor, "While the conference rooms received the name of significant Army campaigns, we chose our G2 rooms based on relevance to Military Intelligence and our FORSCOM heroes.
The Korea UN Defensive 1950 room features MG(R) Oliver W. Dillard, our first FORSCOM G2.  The Liberation of Kuwait 1991 room features SFC Benjamin Hodge, a
decorated interrogator and MI Hall of Fame member. The Afghanistan Consolidation I Campaign 2001-2006 room features SSG Edwin H. DazaChacon, a decorated signals intelligence professional killed in Afghanistan in 2005 while serving with the 7th Special Forces Group (Airborne)."
All soldiers must be nominated for this honor and pass through the channels of the selection process. SGM Joseph C. Harris nominated Edwin.
The dedication took place on February 16, 2012. The family members in attendance were: Smila Chacón, Jessica A. DazaChacón-Houdement, Olivier Houdement and Nelly Chacón. Edwin's mother, Smila, was asked to cut the ribbon. Edwin's sister, Monique F. DazaChacon, was unable to attend as she was living out of country for work reasons at the time. A few close friends of Edwin's also joined the family for this honor at the invitation of the family.
Should you want to read more about this event you may visit: http://www.army.mil/article/74062
Huachuca US Army Intelligence Center Classroom Dedication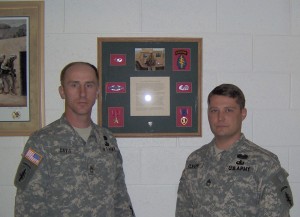 Military Intelligence Army Noncommissioned Officers Academy at Ft. Huachuca, Arizona, honored Edwin with a memorial plague in Ice Hall on March 23, 2006. A touching dedication was delivered by Edwin's comrades, Sergeants 1st Class Clayton Jensen and Mike Davis. Edwin was remembered as, "a friend, son and brother in arms…he was a true American hero." A duplicate plaque was also hung in Ft. Bragg, North Carolina.
Bagram Afghanistan Building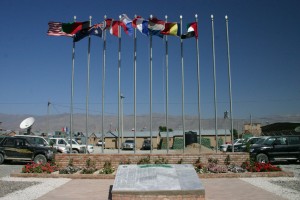 Bagram Airfield is the largest U.S. military base in Afghanistan. Edwin received the incredible posthumous honor of having a building on base dedicated in commemoration of his service.
Middle East Conflicts Memorial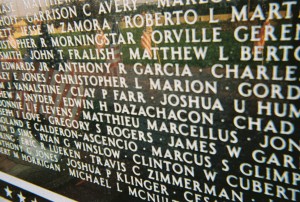 The Middle East Conflicts Wall Memorial located in Marseilles, Illinois was started by Vietnam veteran, Tony Cutrano. It recognizes all soldiers that have fallen in any of conflicts in the Middle East since 1979. Edwin's name was added to the wall in March of 2006.
Special Forces Bar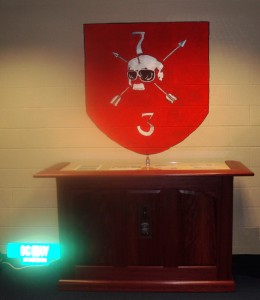 A private room in the Special Forces Building on Ft. Bragg, North Carolina, is home to a unique and personal memorial for Edwin. A bar was built and erected by his Special Force comrades. A cutout in the bar features a plaque, poem and a bottle of Jack Daniels.
The plaque is a copy of the one hanging in Ft. Huachuca's Ice Hall. The initial plaque was hung on March 23, 2006 at the Military Intelligence Non-Commissioned Officers Academy.
The family would like to, once again, thank Edwin's Special Forces brothers for this personal and special memorial.
Poem
A poem was written by a friend of Jessica's, Chip Royston. Chip did not have the honor of knowing Edwin before his departure from this life. Bearing witness to the pain Edwin's loss caused so many and discovering the man beyond the soldier through the stories of those closest to him, Chip was inspired to write the prose.
This poem hangs in the Special Forces Building located on Ft. Bragg, North Carolina. This is another special privilege extended to honor Edwin.
To the friend I'll never meet
To the soldier who fights for me and my family,
I am against war and have been for as long as I can remember.
I have been against the military and the government for as long as I can remember too.
But something touched me this week. You died.
 Now I can never thank you.
I can never tell you that I understand.
I can never tell you that your life made the difference you died trying to make.
You lived that I may learn to appreciate my freedom.
Not just political freedom,
but freedom to be
freedom to love
freedom to cry
freedom to feel
freedom to go where I want
freedom to live as I choose not as others say I must.
Maybe if everyone who is free
really appreciated the lives that their freedom cost,
people who are not free would stop resenting us…
Maybe if everyone who is free
chose compassion for those who are not
people wouldn't blow themselves up to be heard…
Maybe if every human
really understood that our freedom isn't real
until all humans are free…
I have learned from you
that I have spent my life fighting against something
while you lived your life fighting for something.
My life is spent.
Your life is lived.
I choose to live my life FOR freedom
rather than spending my life AGAINST war.
My life is better that you have lived.
This is my "Thank You"